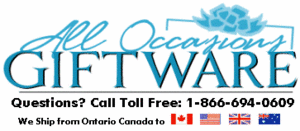 From elegant boxes for wedding favors and gifts to candelabras for table centerpieces.  This is a one-stop-shop for brides and grooms searching for chocolates, Jordan Almonds and beautiful decorative ribbons for decorating wedding favors.
AllOccasionsGiftware.com has been in business online since 1999.   Our products are shipped across Canada and United States and we've recently added United Kingdom, Australia and New Zealand to our list of ship-to countries.
Free Ground* Shipping for orders over $250 (*country restrictions apply).  All orders over $50 receive a $5.00 Discount automatically on Checkout.
Easy-to-use Shipping Calculator is available for quick calcuations before Checkout.
Customer Care toll free phone number is 1-866-694-0609 (24/7/365).